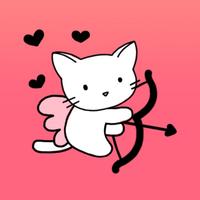 Cute Cat Love Stickers
$0.99
Cute Cat Love Stickers Description
Do you wish people got excited every time you messaged them? Do you feel like you've ever sent messages that didn't immediately delight the receiver? It's not you. It's your boring messages without cats or love in them.

A study has shown that people just don't like messages without cute cats.*

*"We asked this one person and they said they liked cats in their messages. Our research was clearly done. People need cats." - said myself when writing this

Have a secret crush you don't know how to talk to? Throw a cute cat in there to do the work for you.

Have you been told your flirting is awkward and makes everyone uncomfortable? Throw a cute cat in there to turn things around.

Cute cats make you cool. Just like bowties.

"I used to think my phone was broken because no one ever replied to me. Then the genius bar stopped accepting my appointment requests. I almost gave up until I tried cute cat love stickers. Suddenly I was having multiple chat conversations at once! Even people who's phones had been broken for years said they got them fixed just yesterday - how serendipitous is that!?" - said a made up person.

Get over a dozen cute love cat stickers to help show how you really feel, or to change the topic in an awkward conversation.

Get stickin'!
Cute Cat Love Stickers 1.0 Update