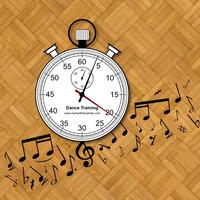 Dance Training
Not Available
Removed
from the App Store
Dance Training Description
Optimize your Dance Training!
Are you fed up with tediously piecing together the music for your dance training? Want to create a medley for your show? Then this app is exactly what you've been looking for! Simply select your titles and play lists, insert the pauses, specify how long each title is going to play, and off you go! The app registers your training session, so afterwards you can see exactly what, when and how long you practised.

- create a music program based on songs or playlists from your device
- duration can be set per song/playlist or globally
- optionally announcing of the dances
- automatically recognition of dances based on the title name: "WA(28), JI(43)"
- Fade out at the end of the title
- breaks can be silent or a song or playlist

Hint: By using a playlist per dance, you can create a music program with a fixed order of dances but with random chosen songs.
Dance Training 1.41 Update
What's New in Version 1.41
- new Feature: playlists can optionally play more then one song if a song is shorter then the length of the playlist
- bugfixes
Changes in 1.40
- Repeat function for DanceTraining Playlist added. Check the new icon in the lower left corner in the player view.
- Playlists can be played continuously now. The order of the songs will be defined by the name of the playlist.
Random and continuous can be mixed within a DanceTraining Playlist (the same playlist can be used more than once)
for Example:
Playlist_1 cont -> song 1
Playlist_1 rand -> some song
Playlist_2 cont -> song 1
Playlist_1 cont -> song 2
Playlist_2 cont -> song 2
- New random play function: every song of a playlist will be played one time only. After all songs have been played, the songs will be randomized again.
- The volume can be reduced during breaks. (option available under system settings)
- All songs played will be saved in the log. You can replay them from the log entry (3D touch can be used if your device supports it)
- While playing music, infos will be displayed on the lock screen now
- iOS9 support
- Optimized for iPhone 5, 6 und 6+
- Bugfixes
More
More Information
Language:

English

German

More