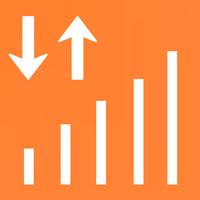 Data Manage
Free Get
Data Manage Description
In current times its very important to keep track of your data usage, to keep it check that your free data limit it not crossed, but how? To answer it and make this task simple this app comes. Data manage keeps the track of your data usage via cellular data and wifi, it will alert you when and before the limit set by you is about to exhaust. So let never get ignored about our data limit again.

Data Manage App's Features:

- Simple to use.
- High-level customization support.
-Choose the start date for your data cycle.
- Choose the billing cycle for your data.
- Choose data consumed.
- View cellular and wifi data consumption.

How to use Data manage App:

- Start by adding you data pack starting date.
- Add billing cycle days (i.e 20 days or 30 days).
- Add the data cap limit either in MB or GB.
- Add existing data usage either in MB or GB.
- Watch the percentage used by you in data pack.

What can you do with Data manage App:

- Keep an watch on data consumption limit.
- keep track to how much data used in your billing cycle.
- Add the data cap. limit to keep thing in hand.
- Get notification when you limit about completed.


So let not get carried away with our data pack and pay for over usage. Download Data manage and keep things in Hand.