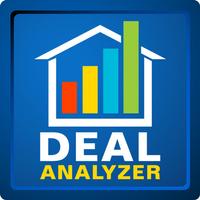 Deal Analyzer
Free Get
Deal Analyzer Description
Finally an app for flipping houses that has everything you need in one app…
If you flip houses then this app has 3 of the most important calculators:
1). Rehab Checklist:
Use the pre-written costs for each item of a rehab and simply input the quantities for each item and get a itemized total.
You can save "projects" and refer back to them later.
You can also edit the cost per item to customize your own rehab checklist.
2). Buy Formula:
Instantly know the buy price of any prospective deal. Enter in the total rehab cost and the after repair value (ARV) and it will automatically calculate your buy price.
3). Cost of Capital:
Know what it will cost to borrow capital for your deal. Simply enter the interest, points, misc fees, and time you plan on being in the deal, and it will calculate the total carrying cost (cost of capital over the duration of the project).

Please let us know if you find any "bugs" with using this app so we can fix it ASAP. go to http://clientsupportnow.com and submit a ticket...