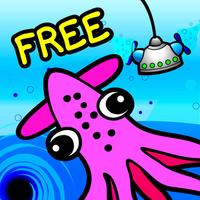 Deep Seep Free
Not Available
Removed
from the App Store
Deep Seep Free Description
CAP THE SEEP DOWN DEEP!

What users are saying:
☆☆☆☆☆ So Addicting! - Once you begin, you can't put it down!
☆☆☆☆☆ 5/5 - Best game on the app store!!!Big Pollution is the best app!
☆☆☆☆☆ Wowwwwwww - Wow!!!!!!!!!!!!!!!! I can't put my iPhone down!!!!!!!
☆☆☆☆☆ EPIC! - This game is amazing, it is the greatest game along with Angry Birds.

While BP is getting ready to start drilling again we released this game to commemorate 1 year anniversary of the Gulf Oil Spill disaster.

Your mission: Save the Gulf from an environmental catastrophe by quickly navigating your cap into the deep and seal the broken wellhead.
As you descend to the bottom, dodge, glide, and tilt your way around deep sea creatures and past hazards.

Highly addictive game with visually stunning hi-res graphics!
–––––––––––––––––––––––––––––––––

FEATURES:
- Multi-directional tilt control.
Navigate your cap simply by tilting your iphone in all directions as you descend into the deep. Slow down by tilting away from you but watch the fuel gauge!

- Encounter sea creatures and navigate past hazards
Swerve past whirlpools, whales, giant squid, oil plumes, submarines, naval mines. Fight treacherous currents and follow your light beam in complete darkness.

- Free trapped fish
Earn bonus points by freeing fish trapped in oil bubbles, but watch out, don't kill swimming fish!

- Progress continuously towards your final mission
Continue the game form the last checkpoint to get progressively deeper. Earn high score by going through multiple checkpoints in one go.

- Upgrade to complete the mission.
Upgrade to unlock deeper checkpoints and get access to the bottom of the ocean. Cap the broken wellhead to complete the mission.

- Awesome graphics optimized for Retina display
Watch the beautiful deep sea unfold in visually stunning hi-res graphics and colors.