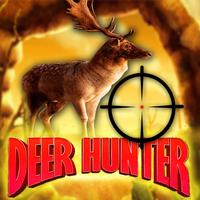 Deer Hunters Jungle Challenge 3D
Free Get
Deer Hunters Jungle Challenge 3D Description
Download Deer ! A First Person Shooter game for people who love hunting games and becoming the top sport hunter in the world. Bring your hunting rifles and prepare to go into the wild and take out as many deers with your lethal shooting skills. We prepare many amazing big guns for you, from shot gun, pistol, machine gun, and even bazooka! This is a 3D sniper game for FREE for everyone so take this chance to enjoy this addictive hunting game now!
You're playing as an expert sport hunter on the hunt. You are hunting large deer and caribous with your igun. The deer and caribous have amazing animal instinct that will let them sense danger of nearby killers. Taking a lethal and accurate shot is very challenging but the reward is worth it. This is why we all love hunting games and sniper game for FREE! It feels rewarding to be able to take down your targets with just one shot without having to reload your chosen igun. Let's see if you can take the accurate shot before the animals runs away from you.
-------------------------------------------------------------
TOP FEATURES OF DEER HUNTER 2017 FREE!
-------------------------------------------------------------
# SNIPER GAME FOR FREE FOR EVERYONE
Unlike many other sniper games or hunting games, our game is FREE to play. Just download our app and open it to begin playing.
# SIMPLE GAMEPLAY BUT CHALLENGING TO MASTER
It's easy to understand how to play our game. However, it's not so easy to take accurate shot under pressure. You need to practice and hone your killer skill. Keep playing and you'll turn from a rookie sport hunter to a master sniper in no time!
# REALISTIC ENVIRONMENT
Let's step into the wild and find various animals to hunt. You will find caribou, black bear, axis deer, moose, and many more. These animals have sharp animal instinct so hunting them will not be easy. Some of these animals have killer instincts too. Be careful ! They might even attack you!
# UPGRADE YOUR WEAPONS
We provide many types of iguns for you to choose, and not just simple hunting rifles. Imagine going on a hunt using a pistol, machine gun, or a bazooka! Not only you can use various weapons, you can upgrade them too! Upgrade your big guns to make them more lethal. Upgrade you equipment and clothing to become the legendary hunter!
Deer Hunter 2017 Free has amazing scenarios. The game is totally unpredictable so you won't get bored. You will need to focus and take the accurate shot every time you are on a hunt, no matter which animals you meet. Even caribou and moose can become very dangerous when they sense killer nearby. Every hunt trips will be different depending on how well you track the animal and react to the environment. Be prepared to take lethal weapons with you to take down the biggest prize as a sport hunter!
---
We always try to give the best gaming experience to our players. Love our free hunting game? Show your support by leaving us your rating and review!
Deer Hunters Jungle Challenge 3D 1.3 Update
Fixed Bugs related to Ads and Animal Movement.
More