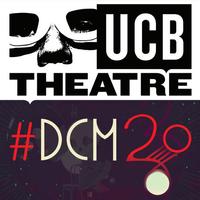 Del Close Marathon
Not Available
Removed
from the App Store
Del Close Marathon Description
This is the official iOS app for the 20th Annual Del Close Marathon, taking place in New York City over the weekend of June 29th, 2017. Browse the list of shows and make a custom schedule of your favorites.

ABOUT THE DEL CLOSE MARATHON

Del Close was the driving force behind improvisational comedy in Chicago for over 30 years, influencing Bill Murray, Tina Fey, Mike Myers, John Belushi, Chris Farley, and the Upright Citizens Brigade, to name a few. After Del's passing in 1999, the UCB started the Del Close Marathon to celebrate their mentor and keep alive his name and teachings for future generations.

From Friday afternoon to after midnight on Sunday, groups from New York, Los Angeles, Chicago, Boston, Washington DC, Austin, Toronto, London, Helsinki, and more will perform improv non-stop at the UCB Theatre and other stages around New York City in the biggest improv event of the year honoring the legacy of Del Close.
Del Close Marathon 20.1 Update
Removed defunct social media link
More