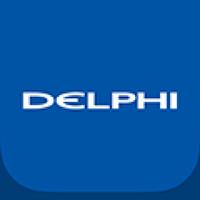 Delphi Connect
Not Available
Removed
from the App Store
Delphi Connect Description
Visit http://mycar-demo.delphi.com using your desktop browser for a demonstration of features!

The Delphi Connect system pairs the power of Delphi's groundbreaking connectivity service with a plug and play module to offer you a convenient way of finding, accessing and controlling your family's vehicles anywhere and anytime with your smartphone or browser. You can now add features to your car that have traditionally been available only on new vehicles or with professionally installed aftermarket systems. Best of all, it works on almost all vehicles sold in the US since 1996.

The Delphi Connect module uses a cellular data connection and a GPS receiver to send position and vehicle data to the cloud. And because the data connection is always available, it doesn't matter who is driving your vehicle. From an internet connected browser, you can access your vehicle data, diagnostic information, and remotely lock or unlock the doors and start the car*. In addition to all these features, this app also provides backup keyfob functionality over Bluetooth®.*

The Delphi Connect smartphone app provides a full-featured connectivity solution for a family's vehicles and drivers, which includes:
• Dashboard - provides a quick overview of vehicle status, driving activity and vehicle location
• Location Map - allows you to locate all your vehicles. On your smartphone, you can even click a link to view navigation directions that take you to your vehicle using your navigation app.
• Geo-fencing - allows you to create up to 6 boundaries per vehicle on a map so you can be alerted anytime a vehicle enters or exits the specified area
• Live Tracking - track your vehicle on a map with updates every 5 seconds of vehicle location, speed and heading.
• Recent Trips - automatically saves all the trips you take in your vehicle and the trip details, including start/end locations, distance traveled and engine idle time. In addition to viewing the route your vehicle took on a map, you can export your trip details to a spreadsheet.
• Alerts – gives you useful event and status information, such as: geo-fence crossings, speeding, high engine RPM, low battery and vehicle motion (only when parked). You can forward each alert to any number of email addresses and to any number of cell phones as text messages.
• Keyfob - gives you convenient keyfob capability via your smartphone or web browser. By using your vehicle's original equipment remote keyless entry system, you will have the ability to unlock, lock, open trunk, activate horn/panic and remotely start your engine from anywhere you have a connection*.
• Direct Connect (over Bluetooth®) - further enhances the Keyfob feature by allowing you to pair your smartphone with the module in your car so that you can use Bluetooth® to perform all Keyfob commands when close to your vehicle, enables you to unlock your doors even if you are out of cellular coverage. The app will automatically switch between Bluetooth® and network links as needed.
• Health - allows you to automatically assess your vehicle's performance - like why your check engine light is on – and have trouble codes translated into useful descriptions that should help you make better repair decisions. You can also clear the trouble codes in your vehicle.
• Account and Module Management – allows you to add and remove Delphi Connect modules from your account so you can access all your vehicles from one account. You can give each vehicle a unique Nickname and Description to track them easier.

*Compatible vehicles, equipment, and browsers only. See support link below.
Go to delphiconnect.com/fitment to check your vehicle's compatibility.
Delphi Connect 4.13.3 Update
Bug Fixes. Supports iOS Version 10 and greater.
More
More Information
Language:

Chinese

Dutch

English

German

More