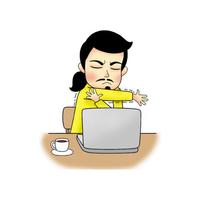 Designer's Life stickers by bebocto.creative
$0.99
Designer's Life stickers by bebocto.creative Description
Designer's Life

This sticker pack is delivered to you by bebocto.creative and MojiLaLa.

Designer's Life stickers are designed by bebocto.creative in Indonesia and powered by MojiLaLa.

Package description from bebocto.creative:

This is a story about a graphic designer named Lou. Although he loves his job, he always finds people are clueless about what his doing. People whom asking a free design, more discount, unlimited revision, unbelievable deadline. Check out how Lou's expressing his feeling here.

================================================================
MojiLaLa is an artsy sticker marketplace for every messaging conversation made from designers from all over the world. MojiLaLa gives you access to some of the most high-quality, unique and creative emojis developed to enhance your messaging and allow you to freely express yourself through every kind of expression and emotion. New original designs from your favorite artists are always being added, as well as local and trending topics in your community.
Designer's Life stickers by bebocto.creative 3.1.457 Update
We bring updates to the App Store regularly to make MojiLaLa better for you. Every update includes improvements to stability, performance, and user experience.
More