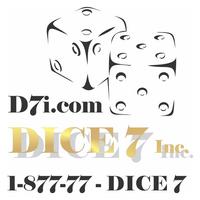 Dice 7 Inc
Free Get
Screenshots for iPhone
More Screenshots for iPad
Dice 7 Inc Description
Dice7 is a Merchant Service Provider (MSP), an Elavon Global Payment Partner & Registered MSP/ISO of Elavon, Inc. Atlanta, GA, a wholly owned subsidiary of U.S. Bancorp, Minneapolis, MN.

Dice7 is solely focused on customer service and satisfaction. Our philosophy is to never leave anything to chance. We work with small businesses providing essential services like credit and debit card processing, as well as e-commerce and point of sales solutions.

Dice7 is the most technologically advanced merchant services provider in the industry. Our merchant services include software development and cash flow optimization through the use of reliable and efficient technologies.
Dice7 works with merchants of all sizes and needs. We have specific solutions that will optimize cash flows with services like 24-48 hour sales deposits, mobile phone processing, Electronic Check Conversion and Guarantee, and Electronic gift cards. All backed by the trust and reliability of our representatives and Partners. Elavon, our principal partner, is the leading provider of merchant services with one of the highest rates of customer satisfaction in the Industry. You are guaranteed 24/7 customer support, 365 days a year, by U.S. representatives in English, Spanish and Chinese.

Dice7's mobile application is specially designed for our Account Executives in the field; the app fulfills all merchant's needs through Dice7's comprehensive Database and tools. Take with you all the necessary information in order to quote your clients on the most recent Visa, Master Card, American Express and Discover processing Rates. As a representative, you will have the ability to filter the interchange rates based on the Card type as well as the Qualifying tiers (buckets) as well as consult historical values.

By using this Mobile application, you will be able to take advantage of Dice7's unique cash advance calculator. This easy to use calculator requires two variables, the merchant monthly gross sale and credit card sales to give a exact quotation. In addition, allows your merchants to customize the advance they need based on their cash flow requirements, like what percentage of their credit car sales can they dedicate for the repayment and the estimate time for repayment. This Calculator will yield a comprehensive and transparent quote on how much money can be advanced, and exactly how much money will be paid back and in how long.

Furthermore, explore the wide variety of equipment and added services Dice7 provides to Merchants. From innovative online POS systems to mobile processing solutions, the Dice7 mobile application is going to be your one stop mobile database for all merchant service needs.