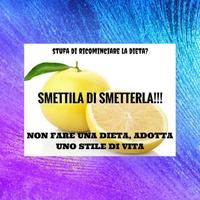 Dimagrire senza stress
Free Get
Dimagrire senza stress Description
Ciao!!!!! Sono Franca Professional Coach, Raccontami, Ti ascolto!
Perdere peso a volte sembra una cosa difficile da fare, poi incontri qualcuno che ti parla di un'azienda italiana, specializzata nell'integrazione e cambi il tuo punto di vista.

Le ho provate davvero tutte, conosco la maggior parte delle diete che circolano sul web, che prescrivono i dietologi, ma anche se un pò di peso lo perdi poi intevitabilemente i kg persi con sì tanto sacrificio tornano con gli interessi, allora si possono fare 2 cose: o lasciare le cose come stanno o provare qualcosa di diverso che non sia una dieta.

Poi un giorno navigando su internet incontro un gruppo "DietaSenzaDieta", mi incuriosisce, contatto una coach e improvvisamente intravvedo la possibilità di qualcosa di diverso. Così ho incontrato SNEP, così ho iniziato a provare i prodotti, così ho deciso di collaborare con quest'azienda.

Il programma proposto è davvero semplice e alla portata di tutti, "perdere peso e stare in salute" è diventato il mio motto, aiutare chi, come me, le ha provate tutte è diventata la mia missione. Naturalmente nessun programma possiede la formula magica, ma se mi seguirai saprò condurti dove tu vuoi.

QUESTA APP E' PER E CHE VUOI PROVARE QUALCOSA DI DIVERSO,

Finalmente potrai avere la tua coach sempre con te

Vuoi conoscere i dettagli?

Rispondi al questionario, ti contatterò per farci due chiacchiere e per vedere se questo programma può fare anche al caso tuo.

Prima però curiosa nell'APP dal menu' in fondo, vai a vedere gli allenamenti gratuiti, le ricette, tutto ciò che ho creato per te GRATUITAMENTE.

Sia che tu decida di seguirmi o meno quest'APP sarà continuamente aggiornata di informazioni, ricette, stratagemmi, news che provengono dal mondo del benessere... video workout da svolgere a casa ... e molto molto di più!

E quando deciderai di iniziare il programma con me ... questo blog, questa app, ed il mio team NON TI LASCERANNO MAI SOLA !

Non c'è niente di più triste che seguire un programma di cambiamento in perfetta solitudine..

Qui facciamo tutto invece in amicizia e compagnia !

Ci congratuliamo, sosteniamo e creaiamo anche delle bellissime amicizie!

Benvenuta fra noi!

Franca Tidda

Distributrice indipendente Snep.

Continued use of GPS running in the background can dramatically decrease battery life.
Dimagrire senza stress 1.0 Update