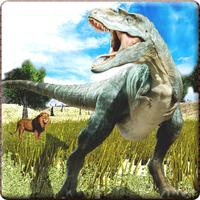 Dinosaur Attack: Survival Game
Free Get
Screenshots for iPhone
More Screenshots for iPad
Dinosaur Attack: Survival Game Description
A New Dinosaur game of 2018 is Launched for you!! Dinosaur simulator is a new thrilling 3d game with Amazing 3D graphics and prehistoric Jurassic environment. explore the huge jungle map with your giant trex dinosaur. Experience the life of a dino. Explore vast terrain of the jungle with ferocious wild animals and huge carnivores like a wolf, hippo, rhino and much more. The wilderness is filled with fierce predators of all shapes and sizes. An ultimate game for simulator games animal lovers!
enter into the exciting world of Dinosaurs! Play as a deadly animal on the prowl. Use your greedy instincts to hunt down your prey in a lush jungle environment. Aim, run & attack! Use those sharp teeth and claws wisely to obtain the tastiest feed. It's a fighting match between a dinosaur and other animals like wolf, zebra, bear, deer, lion and much more in dinosaur game free!

dinosaur simulator attack and rules the large 3D Jurassic environment jungle and hunt animals as prey. Bite tasty animal's critters in the ultimate survival dinosaur game. A T-rex is walking through the jungle to attack as an animal hunter and fierce predators with razor sharp teeth and super strong bite. Deer, bear, and lion got no change to escape from its superb speed deadly attack. Hunt ferocious 3D animals like wild bear, wolf pack, deer too in the wilderness. All wildlife animals are scared of​ the razor sharp teeth, strong claw and speed attack of this carnivore beast jungle king.

Dinosaur Simulator is a unique game with amazingly realistic physics. This game will show the wildness in depth. This game is the ultimate, chaotic way This Dinosaur game is something you will not want to miss.
Unleash the beast in you with this FREE dinosaur simulation game available now!
Features of Dino Games:
√ Realistic simulator environment
√ Epic battles of survival and kill
√ Challenging missions and level ups
√ Dynamic weather conditions
√ Huge 3D terrain simulation
√ Unique wild species like lion, deer, wolf, zebra, hippo & rhino

Be the ruler of all the other dinosaurs by playing Real Dinosaur Simulator! Chase, kill and survive! Pounce on your prey. Enjoy more of our animal simulators with realistic environments and attack animations.