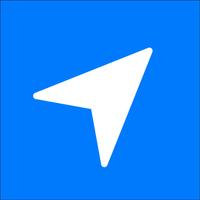 DireWalk
Not Available
Removed
from the App Store
DireWalk Description
DireWalk is an application that shows the only direction to a destination when you select a destination.

Operation of it is easy!
Just swipe to the right, then you press and hold maps! The direction should already be displayed​.

It is good to show the route using a map when you go somewhere, but if you are attracted to a place away from the route, you will get a notification of route change. There is no problem in this situation, but when it comes to notification, it may sometimes feel like you did something wrong. Or the notification map may seem disgusting.
As DireWalk only shows an arrow to the destination, it's a good indicator that it's about time to get there. While traveling, when you want to look at the city but eventually want to go there when you want to discover a new path to where you always use it, you will do so by using DireWalk.

So let's have a better day with DireWalk!



Main function

・ You can switch to a mode that displays only the arrow when you press the screen on the screen with a large arrow (For long on 3D Touch non-equipped models, this feature corresponds to long press).

・ You can save frequently used places such as home and work. Let's know how to return from various places.

・ You can also check how many steps you walked today in the app. As we cooperate with healthcare, we can confirm data from healthcare. This app uses a Health Kit to synchronize healthcare app. You need arrow use of Health Kit if you use this function.

・You can save your favorite place. You can see a direction to favorite place easily.
DireWalk 1.1 Update
I renewed the UI!
This version contains new features example: location search. In addition , it on iOS 13 has match more beautiful UI.
New Features
- You can search a location with search bar at the top of the map. The direction and distance are always displayed for all search results, and search results are sorted by distance.
- The appearance of the tab bar changed like iOS native tab bar. The floating tab bar was so challenging, but it seemed a bit difficult to understand.
- You can change an appearance of the arrow. Try to brighten the colors and use border arrow in "Direction Only Mode". It'll be carefully for your eyes and easier to understand.
- The method for subscribing favorite place has changed. You tap pin on map, then a cute speech bubble that shows favorite button appears. When tap search bar, then you see all favorite places. And you can also add favorites by swiping the search result to the left.
- Favorites management has become easier. Try swipe favorite you want to change in list to left and tap 'Edit'. You can change a name. The cute map in small window can be scaled by double tap and swipe up and down.
- iOS 13 supported. The beautiful black UI and the new screen presentation will make you experience even more wonderful.
[Warning] In this version , the background method has been big changed. I decided to delete your favorites saved. In the future, I'll develop this situation will not happen.
More
More Information
Language:

English

Japanese

More