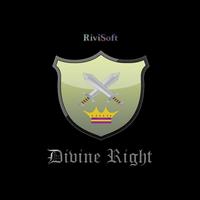 Divine Right
$1.99
Screenshots for iPhone
More Screenshots for iPad
Divine Right Description
Classic turn based strategy for iOS.

- Fog of war with three visibility states- unexplored, explored but out of view and visible
- recruit units by choosing from various armor levels and weapons and if the unit will be mounted or foot
- unit ratings include attack, armor, movement and to hit all of which can be increased as desired when the unit gains levels
- units have a hidden view range value determining visible tiles from their current location, driven by their movement range
- units are purchased with gold, reduce castle population slightly and require ongoing war material each turn
- Castle upgrades can be purchased with gold, which increases their max population as well as their defensive stats, visibility range and focus skills
- Castle focus allows you to customize your kingdom by having castles specialize in food, materials, gold or elite military units for increasing benefits as upgrade the castle
- Castles are the center of the economy, producing population, war material and gold as well as recruiting units and healing nearby friendly units
- Recruiting and healing do not occur if the castle is under siege by having an enemy unit adjacent, and the siege will reduce health of the castle
- Forest and hill terrains provide defensive advantages and increased movement cost, while water hexes provide defensive disadvantage
- Attacking from multiple sides increases the chance of an enemy retreat/ surrender
- Reward hexes which give one time rewards to those who find them

The land is in turmoil. Choose one of 4 characters (the Duke, the Prince, the Earl or the Baron) and try to conquer the kingdom. Playing against up to 4 unique computer opponents (including the non aligned Scoundrel) or humans via hot seat: your decisions will determine the fate of the kingdom. Battle across randomly generated hex maps, manage your economy, build and upgrade castles and recruit and level custom units to secure your divine right of kingship the old fashioned way- through force of arms!
Divine Right 1.08 Update
Fixed display issues which made it unplayable on 'Plus" iPhones. If you experience any new issues, please let me know at support@rivisoft.com.
More