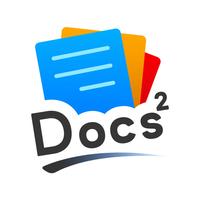 Docs² | for Microsoft Office
$9.99
Screenshots for iPhone
More Screenshots for iPad
Docs² | for Microsoft Office Description
–– SAVE BIG TODAY ON DOCS² | THE SMARTEST BUNDLE FOR MICROSOFT OFFICE! ––
• Start working smarter, online and on the go with the Office apps that you know and love.
• Quickly create Microsoft Word, Excel and PowerPoint documents, or email with Outlook.
• Complete with the best documents, guides and templates for Office.

Get Docs² for everything you need to begin quickly creating Microsoft Office docs! Work smarter with great videos to guide you through the essentials, a convenient document browser to edit online and on the go with your favorite apps, plus free templates to help you create beautiful docs. All together in the smartest bundle for Microsoft Office!

FEATURES
– Explore the essentials of Microsoft Office with helpful videos & content to guide you.
– Create and share docs online with convenient shortcuts for your favorite Office apps, including:
–– Word, Excel, PowerPoint, Outlook, OneNote & OneDrive.
– Discover free templates to create beautiful documents.
– Save docs offline or in OneDrive to work with other apps and devices.

QUICKLY LEARN TO:
– Create Word, Excel and PowerPoint documents.
– Update your calendar and manage mail with Outlook.
– Edit and add comments to documents.
– Save, print, publish and share documents.
– Add charts, pictures, animations and effects.
– Insert a table of contents, headers, and footers.
– Create and print custom labels and PDFs.
– Work with documents while on the go.
– And so much more...

DEVELOP YOUR SKILLS WITH THE BEST DOCUMENT BROWSER
– Enjoy streamlined steps to work with documents in OneDrive.
– Work with the most popular document types and formats.
– Avoid frustrating file incompatibility, and "View Only" headaches of other apps.
– Secure your files with Face ID, Touch ID, or passcode.
– Type what you want to do, and the new Tell Me feature will show you how!

SAVE YOUR WORK ONLINE FOR USE ACROSS YOUR DEVICES
– Because working without the cloud is so 1999...
– Simply save your files to OneDrive to edit them everywhere.
– Automatically sync documents for use across your devices.
– Easily share your documents with friends and colleagues.
– Enjoy greater freedom with online and mobile editing.

EXPLORE HUNDREDS OF PROFESSIONAL QUALITY TEMPLATES
– Browse a free treasure trove of time saving templates.
– Select the perfect layout or theme, and edit online or save offline.
– Start creating beautiful documents in no time!

LEARN FROM THE MASTERS
– The included guides show you everything you need to be more productive, discover key features, and learn to get things done fast.

Download now to get jump-started!

____________
NOTICE: Microsoft Office 365, Word, Excel, PowerPoint, Outlook, OneNote, and OneDrive are property or trademarks of Microsoft Corporation. Docs² is a property and trademark of Docs Squared, and is neither produced by, endorsed by, nor affiliated with Microsoft Corporation. Access to Microsoft Office functionality and templates is available for free through Microsoft Office Online, or you can work offline with even more features via an Office 365 trial subscription. © 2013-2018 Docs Squared, LLC. All rights reserved.
Docs² | for Microsoft Office 5.0 Update
Great news! Bugs have been squashed and are extremely rare in this version. You'll love the results!
- Over 99.6% of customers don't report experiencing any technical issues.
- In the unlikely event of a problem: Contact us anytime. We're happy to help!
New Features:
• Designed to feel faster, more fun, and help you get things done!
• Secure access to your files with Face ID, Touch ID, or passcode.
• Support for the new iPhone X and iPad Pro.
Other improvements...
– Added support for business and education, in addition to personal users.
– Streamlined steps for document editing.
– Stability and performance improvements.
– Interface and other enhancements.
– Optimized for iOS 11.
– Content updates.
– Other fixes.
More