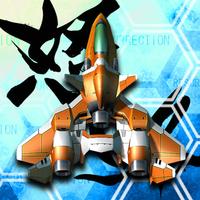 Dodonpachi Resurrection
Not Available
Removed
from the App Store
Dodonpachi Resurrection Description
Sequal to Dodonpachi Blissful Death

≪ Dodonpachi Resurrection Overview ≫
"Best Action/Arcade Game for iPhone" Winner at The Pocket Gamer Awards 2011

Sequel to legendary Danmaku shooting game "DoDonPachi Blissful Death(DAI-OU-JOU)"!
The Legendary shooter, "DoDonPachi Resurrection" is now resurrected on Smartphone!
Smash your way through the world of "Resurrection" !

≪ Rave Reviews for DODONPACHI RESURRECTION ≫
EUROGAMER
"...DoDonPachi Resurrection is an absolute masterclass in mobile gaming...
Once you're locked into point-grabbing competition, good luck tearing yourself away to eat or sleep."

IGN
"Dodonpachi Resurrection is truly a beauty to behold.
This is one you can pull out to show your friends how good iPhone games can look."

TOUCHGEN:
"...a pure balls-to-the-wall assault on your senses,
and it doesn't let up from beginning to end…"

SLIDETOPLAY:
"It's wildly over-the-top and hectic beyond belief,
and that's just the way we like our shoot 'em ups."

≪ DODONPACHI RESURRECTION ≫
The Legendary shooter, now for iPhone and iPod touch!

● TWO GAME MODES
Two fully-featured game modes: Smartphone Mode, an exclusive adaptation with touch controls tailored to the smartphone portable format, and Arcade Mode, a port of the arcade shooter classic.

● PRACTICE MODE
Practice Mode included to help boost your score! Beginner and veteran shooters, brush up to beat your friends!

● SM SCORING SYSTEM
Get whipped by the SM Scoring System, built specifically for Smartphone Mode!

Shift between "S" SLAUGHTER, and "M" MENACE modes!
Use the Supreme Weapon of Annihilation "Hyper Cannon" to smash your way through the world of "Resurrection"!

● BRAND NEW MUSIC
Exclusive BGM added to Smartphone Mode!

● WELCOME TO BULLET HEAVEN
Weave through the storms of bullets that magnificently fill up the screen!

● OPTIMIZED CONTROLS FOR iPHONE
Pull off moves impossible on an arcade stick right in the palm of your hand!

● COMPATIBLE WITH GAME CENTER
Internet rankings and achievements included!

Rankings included for each game mode and each ship type. Compete with players all over the world for high scores! Unlock achievements by completing in-game challenges!

Go for a full achievement list!

● SECRETS TO FIND!
"Shake Shake Resurrection"
Shake the game up for a mysterious? hidden BGM track!

Hidden Ship in Smartphone Mode
The True Last Boss of Dodonpachi Resurrection, ]-[|/34<#! (Hibachi) can be selected in Smartphone Mode!

*More information on secrets is available at the CAVE WORLD homepage.

### IMPORTANT ### : Please read the below before purchasing.
This game will only run on iPhone 3GS, iPod touch 3rd Gen (iOS 4.3 and up) and later devices, as well as iPad (iOS4.3 and up). Other devices are incompatible.
※Since this application uses a significant amount of memory, it is possible that it will crash when device memory is low. If this happens, please consult our Support Page.
※Turning the expand/shrink accessibility function "ON" may interfere with in-game play.
More Information
Language:

English

Japanese

More