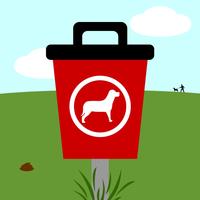 Dog Bins
Free Get
Dog Bins Description
You're out on a walk with your dog and it does its business. You're a good dog owner, so you have a bag to pick it up with, but where's the nearest dog bin to throw it away?

'Dog Bins' is an app that will tell you where all the known dog bins are in your area.

It's that simple!


*** It's made by the users! ***

When you see a dog bin that isn't on our system, you can take a picture of it within the app and upload it. Then when the next person comes along, they'll be able to see that dog bin on their map.


*** Features ***

- Post a dog bin where ever you are,
- See all the dog bins logged in your area,
- Get more details about a dog bin by tapping on it,
- Search dog bins in an area,
- Find the closest dog bin within 250 meters on your Apple Watch.
Dog Bins 3.6.0 Update
- Updated for iOS 13
- Added a dark mode (requires iOS 13)
- Minor fixes and optimisations
More