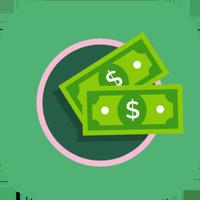 Dollar Dodge
Free Get
Dollar Dodge Description
Survive 100 seconds to win!

Dollar Dodge is all about maneuvering a dollar and dodging expenses that bounce around your screen. If you can successfully dodge the expenses for 100 seconds then you win!

Collect gems to unlock new skins for your dollar bill!

It's harder than it sounds, very few people have won.