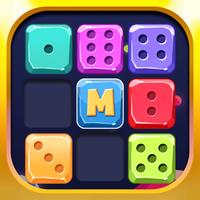 Dominoes Merge : Block Puzzle
Not Available
Removed
from the App Store
Dominoes Merge : Block Puzzle Description
Dominoes Merge : Block Puzzle is a very fun and exciting block puzzle game! This colorful and fun free merged game for brain training. It will keep you entertained for hours and play merged dice game free forever!

THE NEW KING OF BRAIN TEASERS PUZZLE GAME!
Do you love puzzle games or dice games? Do you like lovely color blocks and numbers inside dices of classic family game "Dominoes"?

Inspired by 1010, 2048, Merged, Make 7, and other merging games...! Check out our new merged game about
domino dice, Dominoes Merge : Block Puzzle.

WHY I SHOULD PLAY THIS MERGE DOMINOES GAME?
Merge Dominoes: Block Puzzle & Merged Game is a merged block puzzle game that you need to get higher and higher scores and eliminate blocks of dice dominoes from
the grid! It will destroy your brain totally!

If 1010 games or 2048 games make you boring. You should play our dice games! You will feel fresh and relax with new gameplay of dice games !

HOW TO PLAY?
- Drag a domino dice blocks to the grid empty cells!
- Place 3 or more domino dice blocks with the same number and color next to
each other to merge them horizontally, vertically or both.
- You can rotate dice dominoes block before placing them on the grid by tapping on them.
- Merge dice dominoes to get higher value.
- The final piece is domino dice with letter "M" ( Make 7) called "SUPER DICE" which can be created by merging 3 or more dominoes block [6] to make 7 dice.
- Match 3 or more "SUPER DICE" will create explosion which destroy many blocks around it.
- You can use booster items: BOOOOM. It very useful to make you get the highest score.

FEATURES
- The best of merged dominoes game and in top trending puzzle.
- Ideal for all ages.
- Play easily and quickly.
- With limited space on grid, merging will more difficult with totally
random dice block of dominoes ! Improve your strategy skill and test your brain!
- Unlimited moves and no time limits then you won't feel stressful. Just
feel relax after busy day or want to kill free time!
- Challenge with your friends on logic games and
addicting puzzle of merged dominoes dice game.
- Smoothing sounds effect and super visual effects.
- Save and continue game
- Support leaderboard
- Nice, colorful graphic

TIPS
Smartly cell connect dices, have fun and become the genius of free merged dominoes amd merged game!
Dominoes Merge : Block Puzzle 1.0.3 Update
-Increase performance
More