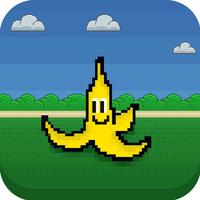 Dont slip on the banana - tippy tap adventure
Free Get
Dont slip on the banana - tippy tap adventure Description
An addicting Japanese style game that tests your reflexes against time and movement.

Enter our little friend Banana, well we all know we don't want to step a banana skin, as you will SLIP!, so take on the challenge and test your speed and accuracy with this simple and fun game!

** [ HOW TO PLAY]**

Tap on the green grass blocks to follow the steps toward the goal.

The faster you tap, the faster the path moves along!

Tap on the banana, and well shucks, its game is over for you, like a flash of white light!!!.

Several mods like the classic

** Time Attack Mode**

Test your speed against the timer to see how fast you can get to the end.

** Long Run Mode**
Measure distance advanced in 11 seconds. and if complete 50 steps,add 10 seconds.

display your steps and to begin a countdown of 10 seconds.

Sudden Stop Mode
In this mode you have a 10 seconds to step as many times as you possible can, but then here is the catch, you have to stop before the 10 second mark.

One step past the 10 seconds and well, guess what its, game over for you.

So make sure you try not get your nice clean shoes messy and slip over!

Score and Game Center
Your scores are recorded so you can always check your improvement.


Can you keep your shoes clean and not slip while running on the grass! :)

**
This app is integrated with Alphonso software. Subject to your permission, the Alphonso software receives short duration audio samples from the microphone on your device. The audio samples never leave your device, but are irreversibly encoded (hashed) into digital "fingerprints." The fingerprints are compared off-device to commercial content (e.g., TV, OTT programming, ads music etc.). If a match is found, then appropriate recommendation for content or ads may be delivered to your mobile device. The Alphonso software only matches against known audio content and does not recognize or understand human conversations or other sounds.
Dont slip on the banana - tippy tap adventure 1.1 Update