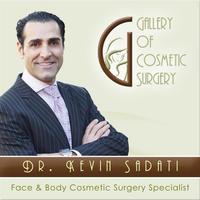 Dr. Sadati's Gallery of Cosmetic Surgery
Free Get
Dr. Sadati's Gallery of Cosmetic Surgery Description
"Love of beauty is taste. The creation of beauty is art"
- Ralph Waldo Emerson

Curious about plastic surgery? Modern techniques of today have made it easier and safer to address almost any cosmetic concern you may have.

Download this app and learn what cosmetic surgery can do for you today. You can even take your own photo and visualize potential results of cosmetic enhancements after a nose job, liposuction, tummy tuck, and more!

Browse hundreds of before/after photos from satisfied patients of Dr. Kevin Sadati to see the type of results you can achieve with cosmetic surgery. Once you're ready to have a more personalized discussion of your specific cosmetic needs, book a consult with Dr. Kevin Sadati's friendly office staff and they'd be happy to answer any question you have and suggest what procedures and techniques would work best for you.

Dr. Kevin Sadati is a leader in cosmetic surgery and has pioneered many of the standard plastic surgery techniques used today. Located in Orange County, California, Dr. Sadati's office is now welcoming new patients and can be reached at 949-706-7776 and on the web at www.DrKevinSadati.com.

Please note that this app is informational only. It is not intended for diagnosis and treatment of any health condition, nor is it a substitute for in-office, professional medical advice. Please use this app in an environment, location, device, and account that supports your comfort and need for privacy.
Dr. Sadati's Gallery of Cosmetic Surgery 4.2.0 Update