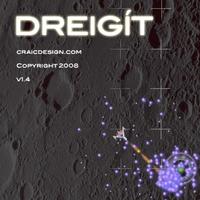 Dreigit
Free Get
Dreigit Description
The year is 2067, and Ireland has launched its first space mission. Waiting anxiously at Dublin Mission Control thousands of light years away, flight controllers receive a single message from the astronauts: "Dreigit.. No - worse!"

Enjoy classic arcade action on your iPhone or iPod Touch. Rotate, thrust, hyperspace and fire are all you need as you rely on your reflexes to survive multiple levels of increasing difficulty.

Featuring smooth, high-speed graphics, sound effects and multiple control options, Dreigit will quickly fulfill your need for mindless violence, and have you coming back for more.

"Dreigit earns the title of best $0.99 game" - TouchArcade.com.


"Dreigit is a game that you can drop into quickly when you want, yet enjoy for long periods when you have the time too.  And at the price it's an absolute steal." - Berble.com.

"I felt like I was a kid again back playing asteroids but on a color screen. At $.99 this is an absolutely fantastic, highly recommended, I thoroughly love it game." - Whatsoniphone.com

Note: In portrait mode, please use the user-defined on-screen buttons to control your spacecraft. In landscape mode, slide your finger to control the direction of the ship, and tap to thrust, fire and engage hyperspace. Please visit the Craic Design website for more information, or send an email to support for a prompt reply.