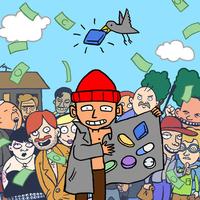 Drug Wars!
Free Get
Drug Wars! Description
The classic game is back! Hit the streets to make your fortune in the remake of this popular game you loved on your computer or calculator... fully updated for our spam-infested times.

*** Featured as a top 100 strategy game in more than 40 countries worldwide ***

BUY LOW, SELL HIGH, STAY OUT OF JAIL!
You're unemployed and your mom just kicked you out of the house (again!). Thankfully, you've found a new career - spamming the streets with drugs!
But it won't be easy. To start your life of crime, you have to borrow money from your good pal Levino and only have a short time to pay him back - or else.
The clock is ticking as you try to make as much money as you can on the streets. Just watch out for the pesky police, who are always right behind you.
Travel around New York to sell your wares and collect cash. This challenging strategy game is always changing with breaking news (prices plummet!) and random encounters (watch out!).
How will you make a profit before time runs out?

CLASSIC GAME WITH FUN NEW TWISTS
Features of Drug Wars! include:
* Addictive game play - Takes just a minute to learn, but you'll be hooked for hours
* Three exciting game modes - Including the extra-challenging 5 day mode and new 60 day mode
* Fast-paced action - Prices change quickly and the police want to send you to jail
* Leaderboards - Show off your high scores to friends on the Game Center and OpenFeint leaderboards
* Fun graphics - Fully updated for our spam-infested times

See how much money you can make on the streets - try Drug Wars! now.

We welcome all customer feedback - please feel free to email our support staff with your suggestions and ideas!

support@deepthoughtssoftware.com
Drug Wars! 1.1.0 Update
- OpenFeint Challenges! Challenge a friend to beat your score in the same game!
- Achievements!
- A new "surprise!"
- Brag about your high scores to Facebook and Twitter (via the Spam-A-Friend button)
- Bug fixes
More