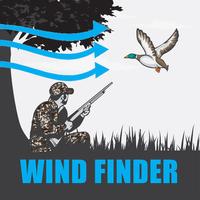 Duck Hunting Wind Finder - Weather App
$2.99
Duck Hunting Wind Finder - Weather App Description
Get the perfect duck hunting setup with the duck hunting wind finder app!

The Duck Hunting Wind Finder - Weather App allows you to visualize the current wind direction at your exact duck hunting spot making it simple to plan your duck hunt.

Easy to use even while using your other hand with your duck calls. Brought to you from DecoyPro!

This Duck Hunting Wind Finder - Weather App is perfect for any duck hunter who wants to improve their chances of success on the water or in the field.

Ducks land into the wind and with this duck hunting app you will be able how to plan your decoy setup before you you get to your hunting spot.

FEATURES:
- Wind direction GPS overlay of your current location to visualize your duck hunt, simple to use even while using your duck calls

- Check wind direction of your duck hunting spot in advance of your duck hunt so you can make the best duck decoy setup based on wind

- Wind speed clearly indicated on screen for duck hunting

- Use pin markers to save multiple duck hunting locations for quick reference of wind direction

- Log notes on each duck hunting location as a great way to remember how many ducks you harvested at each location and any changes to make for your next duck hunting trip. Also log what duck calls you used.

- Satellite view is perfect for identifying your surrounding terrain and planning duck hunting locations

- Impress your duck hunting buddies as a expert duck hunter because you can setup your duck decoy spread based on wind direction and use your duck calls to bring ducks in close for duck hunting

- One of the best duck hunting apps to bring with you on your next duck hunting trip, from DecoyPro!

- Pair this app with DecoyPro duck calls and duck decoy spreads apps by DecoyPro and you will be prepared for a successful duck hunting trip.

Download Duck Hunting Wind Finder - Weather App and start having duck hunting success today!

Built by Decoy Pro - Search the app store for our duck calls app!