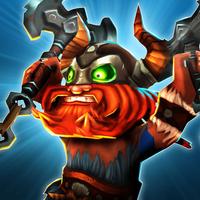 Dungeon Run: Age of Gold and Fire Clans
Free Get
Screenshots for iPhone
More Screenshots for iPad
Dungeon Run: Age of Gold and Fire Clans Description
RUN, dodge, jump, and slide your way to the deepest, fiery depths in search of the fire dragon's gold!

For thousands of years the evil fire dragon has constructed a deadly and expansive dungeon that no mere mortal can enter. Hundreds of the greatest warriors and heroes who ever lived have tried to kill the fire dragon and steal his gold, but none have ever succeeded. Strap on your helmet, grab your sword, and get ready to run into hellfire. Delve into the great depths of the fire dragon's trap laden dungeon. Don't stop, or you will be swarmed by the merciless undead skeleton army which guard the fire dragon's dungeon of death.

- EXPLORE the deepest depths in search of the dragon's gold!
- RUN from enemies seen and unseen!
- JUMP over flaming pits and lava rivers!
- SLIDE under fire and perilous traps!
- DODGE the soldiers of the skeleton army!
- KILL the fire dragon and take his GOLD!

Not convinced? Don't take our word for it:

"More terrifying than the caves of the lonely mountain!" - B. Baggins

"The magic is too powerful for me." - H. Potter

"Scariest place I've ever been in." - J. Snow

"Good thing I don't wear pants, cause I would have soiled them." - Cowardly Lion

"More terrifying than the bees!" - N. Cage

"Gwwwwwaaaahhhhhh!!" - Chewbacka

The fire dragon is waiting. Time to take his gold. Get RUNNING!
Dungeon Run: Age of Gold and Fire Clans 1.0 Update