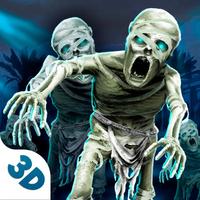 Dust Tomb Mummy - City Terror
Free Get
Screenshots for iPhone
More Screenshots for iPad
Dust Tomb Mummy - City Terror Description
Welcome to the modern world with wide streets, huge skyscrapers and serious buildings! You're a guest here and you're some kind of… a mummy! Maybe you were a pharaoh in your previous life, but now it's time to forget all your fears! Arrange an attack on this stunning large world playing Dust Tomb Mummy - City Terror game!

The awakening wasn't so easy, nah? You don't remember anything from your before-death life, but here, at the present times, people hate you! Protect yourself from their cruel steel weapons and vehicles, level up your mummy's skills and be ready to attack back, 'cause they are so unfair! Prevent some serious situations running away and choosing less strong rivals!

Summon your mummy's allies for help, if you have some problems with human helicopters! Earn some points for successfully completed fighting, survival and exploration missions and unlock various colorful skins for your super ancient mummy or just power your current one up to make it really strong! Play Dust Tomb Mummy - City Terror – it's amazing!

Be careful and attentive, 'cause you have your own life indicators – if one of them falls, your game is over! Show these funny living beings who's the boss here being this ancient kind of creature – not kobold, chimera, manticore or hippogriff, but the mummy itself!

Dust Tomb Mummy - City Terror features:
• Stunning ancient mummy as the main hero
• Opportunity to summon allies for help
• Terrifying city rampage missions
• Police, SWAT, tanks and even helicopters as your rivals
• Chance to customize your cruel mummy
• Bright 3D graphics of modern megalopolis

Plunge into the terrifying atmosphere of being a cruel Egypt mummy attacking the large modern city in Dust Tomb Mummy - City Terror game!