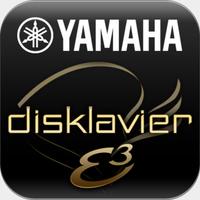 E3 Controller - US
Free Get
E3 Controller - US Description
E3 Controller is an application designed to enable remote control of a Disklavier E3 or DKC-850.

All functions that were possible with the infrared remote control (that was included with the Disklavier E3 or DKC-850) have been made available on iOS devices (iPhone/iPod touch/iPad). Moreover, the E3 Controller displays the screen of the control unit of Disklavier, so you don't have to physically go to the piano to confirm, for example, a song title. All that's required is your ability to access the wireless router that is connected to your Disklavier.

Requirements:
- Disklavier E3 Version 3.20 or later, or DKC-850 Version 3.20 or later
- Wireless router

Usage note:
* Connect Disklavier to the wireless router by LAN cable and choose that same network in the Wi-Fi setting of iPhone/iPod touch/iPad.
* If the wireless router has several local networks, confirm that the Disklavier and the iOS device are connected to the same LAN.
For more detail, refer to the manual that came with your wireless router.

User's Guide:
You can access the E3 Controller User's Guide by tapping the "triangle" button in the lower-right corner of the display.