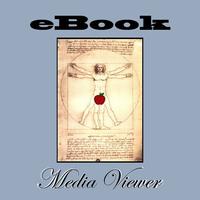 eBook: Leonardo Da Vinci Notes
$2.99
Screenshots for iPhone
More Screenshots for iPad
eBook: Leonardo Da Vinci Notes Description
Enjoy reading Leonardo Da Vinci Notebooks ebook with auto-scrolling, day and night viewing modes, bookmarks, multiple font sizes, full screen viewing in portrait and landscape orientations, and more!

FEATURES:
• AUTO-SCROLL: Hands free reading with our advanced variable speed auto-scrolling.
• FULL SCREEN VIEW: No tab, navigation, or toolbars to get in your viewing way.
• BOOKMARK CONTROLS: Bookmarking lets you start up where you left off fast.
• MULTIPLE FONT SIZES: Increase or decrease the text size quickly and easily.
• DAY & NIGHT MODES: Switch from day to night mode at the touch of a finger.
• PORTRAIT & LANDSCAPE: Read your eBook in portrait or landscape position.
• AUTO SETTINGS: Your viewer settings are automatically saved
• COPY & PASTE: Copy and paste selected text to other apps.
• TEXT MAGNIFICATION: Magnify text for easier reading.
• And more!

eBook Media Viewer Series #22

Title: The Notebooks of Leonardo Da Vinci

Author: Leonardo Da Vinci

Details:
Vasari says, and rightly, in his Life of Leonardo, "that he laboured much more by his word than in fact or by deed", and the biographer evidently had in his mind the numerous works in Manuscript which have been preserved to this day. To us, now, it seems almost inexplicable that these valuable and interesting original texts should have remained so long unpublished, and indeed forgotten. It is certain that during the XVIth and XVIIth centuries their exceptional value was highly appreciated. This is proved not merely by the prices which they commanded, but also by the exceptional interest which has been attached to the change of ownership of merely a few pages of Manuscript.
eBook: Leonardo Da Vinci Notes 7.2 Update
• Updated for latest iOS version
• Various app improvements
More