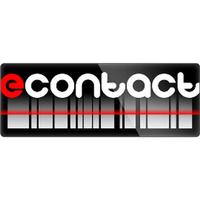 eContact
Free Get
Screenshots for iPhone
More Screenshots for iPad
eContact Description
Il servizio eContact Mobile è un sistema di registrazione delle visite allo stand
basato su di un dispositivo on-line (smartphone/tablet) che registra il QRCode
(barcode) stampato sul titolo di ingresso alla manifestazione del visitatore.

Qualora il terminale sia online, sarà possibile ottenere in tempo reale le
anagrafiche dei clienti ed anche modificarle;
In qualsiasi momento il cliente può accedere alla sua schermata nel sito
internet del sistema eContact (econtact.fieramilano.it) e, utilizzando le Sue
credenziali di eService, può scaricare il file Excel riepilogativo delle presenze.

In ogni record sarà indicata la data e l'ora della lettura e i dati anagrafici
rilasciati dai visitatori in fase di Preregistrazione/Registrazione in Cassa, oltre
alle modifiche dell'utente stesso.

The service eContact Mobile is a system of registration of visits to the stand
based on an on-line device ( smartphone / tablet ) that records the QRCode
(barcode) printed on the title of the visitor's entrance to the event .

If the terminal is online , you can get real-time
client records and also change them ;
At any time the customer can access his screen on the site
Internet system eContact ( econtact.fieramilano.it ) and , using the Sue
credentials eService , can download the Excel file summary attendance .

In each record will indicate the date and time of the reading and personal data
issued by visitors during registration / registration in Cash , in addition
changes to the user.