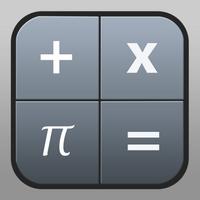 EDS-5 Multifunction Calculator
Free Get
Screenshots for iPhone
More Screenshots for iPad
EDS-5 Multifunction Calculator Description
EDS-5 Multifunction Calculator is a multi-purpose calculator that is simple to use, yet rich in functionality. Enjoy the details of the realistic graphics and well designed keyboards. It not only looks great, but works great as well.

Use the basic keyboard for simple day-to-day calculating needs. Need additional functionality? Swipe or drag the keyboards horizontally with two fingers to reveal more in-depth computing functions from scientific and trigonometry functions to simple loan calculations. There is even a keyboard specifically designed to calculate the sum of a list of values.

Only need one or two of the keyboards? Customize the calculator such that keyboards not needed are simply not shown. The order the keyboards are displayed while swiping is customizable as well by dragging them up or down in the settings view.

Feature summary:
• The EDS-5 Multifunction Calculaton has excellent retina graphics with realistic calculator features
• Multiple keyboards that smoothly transition as you swipe horizontally with two fingers
• Customize which keyboards are available as you swipe as well as the order they are shown
• Commonly used scientific functions
• Trigonometry functions including the inverse functions
• Calculations with degrees or radians
• Loan calculations with principal, interest rate, number of periods (or months), and payment
• Special keyboard to sum a list of values, maintaining a scrollable list to keep track of your progress
•  Memory buttons just as you'd expect on any calculator

Have any questions or problems, please contact us at support@eighthdaysoftware.com.
EDS-5 Multifunction Calculator 2.51 Update