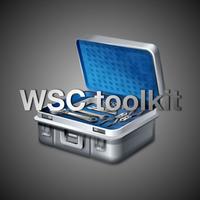 Electronic Toolkit
$1.99
Screenshots for iPhone
More Screenshots for iPad
Electronic Toolkit Description
Electronic Toolkit gives basic information about basic electronic components and it includes calculators for most of the different topics.


With Electronic Toolkit you'll be able to:
Learn about Ohm's law
Learn about resistors
Learn about diodes
Learn about capacitors
Learn about Inductors
Learn about first order filters
Learn about the BJT transistor
Learn about the OPAMP
Learn about the Oscilloscope
Learn about the Multimeter

Calculate voltage, current, ohm, power with the Circle of Ohm's Law (CoOL).
Calculate the size of resistors based on their colors.
Calculate the resulting resistor of resistors in parallel and series.
Calculate the resulting capacitor of capacitors in parallel and series.
Calculate the resulting inductor of inductors in parallel and series.
Calculate the cut-off frequency of a first order high-pass or low-pass filter, or the components based on a cut-off frequency .
Calculate the base resistor for a BJT transistor used as a switch.
Calculate the resistors used in a BJT amplifier.
Calculate the amplification of an OPAMP amplifier or the components needed for a specific amplifier setup.
Calculate the width of PCB traces.
Electronic Toolkit 3.0 Update
New app name.
iPad compatible.
New layout.
Minor debugging!
More