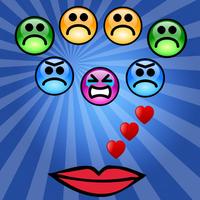 EmoCrush - Smash Negativity!
Free Get
EmoCrush - Smash Negativity! Description
Shoot hearts to blast your negative emotions. Old school arcade game with a twist. Power up with happy bonus bubbles and cute kittens to blast your blues away. Blow kisses to trounce your bad moods! Take time out and direct your frustration at your bad feelings rather than someone else...

Have a happy day!

To play ~

Tap the screen to activate the hearts.
Swipe the screen to move the lips and aim the hearts.
Catch the bonus bubbles as they fall to power up.

Play all levels free.

If you enjoy this game please rate it!