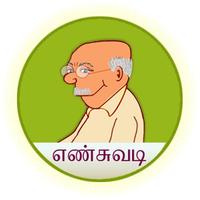 Enchuvadi
Free Get
Screenshots for iPhone
More Screenshots for iPad
Enchuvadi Description
Tamil ! One of the most powerful language in earth. Tamil is evolved through the reformation process of centuries. Tamil is the mother tongue of Tamil Nadu Each Tamilians is proud by themselves for being the spoke person of Tamil. Unfortunately a certain percentage of the Tamilians are living outside Tamil Nadu for their job purpose. This application is also helpful for the kids who are residing in Tamil Nadu but missing the opportunity to learn Tamil due to the use of other language medium in nurseries. So, as the result, the NRT kids are missing the vibrant power of Tamil through out their lives.

Are you worried about missing the sweetness of Tamil for your kids? We take the privilege of cordially inviting you to make the best use of our Enchuvadi APP. Are you remembering the nostalgic ' Enchuvadi' which you used to carryout during your nursery days? 'Enchuvadi' is the digital version of same Enchuvadi which will still fill a nostalgic feel in you.

This endeavor is a humble step to transfer the warmth and the positive energy of our mother tongue towards the next generation. This app will transfer the same positive energy which you used to receive from the traditional 'Nursery' during your childhood.

Are you really want to transfer the sweetness of Tamil to your kids? Just a few steps away.. Install the app and start the lesson straight away.away.