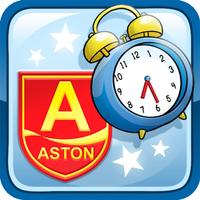 English touch and study(英语点点学)
Not Available
Removed
from the App Store
English touch and study(英语点点学) Description
内容提要:
在快乐轻松的环境下学习,是儿童学习英语最佳、最有效的方式。特别词汇量,十分重要。还在死记硬背吗?你就Out了!
英语点点学是由阿斯顿教育集团为少儿量身打造的英语学习软件,产品界面清晰、绚丽多彩,通过轻快的音乐、生动有趣的图片,让学生在游戏中掌握日常生活中常用的基础词汇
主要特点和功能简介:
1.适合人群:英语初学者。词汇简单,界面易操作
2.游戏分为3-5岁和6岁以上两个板块,每个板块里有两个级别。每个级别里面又有18个关卡,通过听声音找图片、看图片找单词、看单词找图片三种模式反复练习和巩固单词,提高儿童听、读水平和训练反应速度。每找对一个单词都能累积分数和时间。
3.通关并获得一定的分数就可以获得相应的金、银、铜牌,让用户在此过程中收获成就感。
4.还可以把游戏结果分享到微博和好友进行互动。

更多功能,请下载体验。更多阿斯顿教育集团信息,请访问 astonschool.com/main

Abstract:
The best and the most efficient way for kids to learn English is in a happy and relaxing environment. For English language learning, vocabulary is one of the first priorities. Still memorizing words by writing them out? That's totally out of date!

'English touch and study', designed by Aston English, is a free English language learning software designed especially for young students to help practice their vocabulary. An easy to use and intuitive interface, coupled with engaging music and interesting pictures all combine to make your child's mastery of English as easy as possible. Designed to complement Aston English's courses, the app can also be used by children looking to study in a relaxing and fun way!

Main features and functions:

The app can help to develop students' listening, reading and word recognition skills through three game modes:
-listen and find the matching picture
-look at the picture and find the matching word
-look at the word and find the matching picture.
The content is divided into two age ranges: 3 – 5 year olds and 6 and above. Each age range has two levels with 18 game stages.

The more you play the game the more gold, silver or bronze medals you can earn. On the iphone version compare your points score with your friends. You can also share your score with your friends through Sina Weibo.

What are you waiting for? Download the game and enjoy it today! Click through to www.astonschool.com/main for more information on Aston English.
English touch and study(英语点点学) 1.0 Update