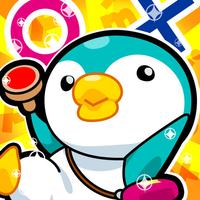 English Vocabulary Factory
Free Get
English Vocabulary Factory Description
Learn the vocabulary through the game! Test your English level and the judgement skill!


-------------------------------------------------
This application is made especially for Japanese natives to check their English vocabulary ability.
Messages in the game is in Japanese only.
-------------------------------------------------


**************************************

Once upon a time, there was a penguin name Penta, who was rescued by a factory owner.
In exchange to the owner's kindness, Penta started to work as quality check employee at this factory.
Your job is to help Penta select the correct vocabulary, and expand the factory.

**************************************

Flash Card with English vocabulary and Japanese definition will appear from the top of the screen.

When the vocabulary match the definition, touch and stamp "Correct".

If the vocabulary does not match the definition, swipe the flash card and throw it away.

Answer as many questions as possible in 30 seconds.

In order to improve English, it is important to quickly and sensuously understand the term as if they are your native language.

The purpose of this game is to train your ability to understand English terms, by continuously and quickly selecting the correct definition.

*The Levels. (Beginning Level is Free)
-Beginning Level (Japanese 6th Grade Level)
-Intermediate Level (Japanese Jr. High Level)
-Advance Level (Japanese High School Level)
-Vocabulary associated with Japan
-American Slang
*There will be advertisement on Free Version.
*Advertisement will disappear once you purchase the paid version.
*Ranking and result will be uploaded to GameCenter.
*Aim for higher score by answering the questions consecutively.
*The factory will get bigger as you proceed the game. You may also earn items to decorate the factory as the score gets higher.
(You may earn items on extra levels, but they will not effect the factory size)
*Facebook and Twitter applicable.
*Unlock the special features hidden as you proceed the game.
English Vocabulary Factory 1.6 Update
- Added a guide towards those who play for the first time.
- Added the ability to link to the online dictionary "Weblio".
More
More Information
Language:

English

Japanese

More