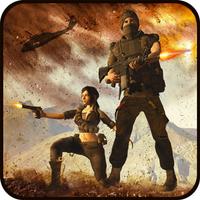 Epic Commando 3D Shooting
Free Get
Epic Commando 3D Shooting Description
GameCraftPro brings you an amazing 3rd person commando based game that will test your combat skills in a 3D warfare environment.
Rival forces have entered our country and have established military bases. These forces are shooting anyone who comes in their path. You are a commando appointed on a mission to shoot down all enemy soldiers and destroy their bases.
Depicting the battle situation in Kashmir, Afghanistan, Palestine and Burma.
Shoot them down using assault rifle, grenades or whatever you like.
Beware enemy soldiers are smart and formidable. They will shoot you on sight, so sit back, and arrange your fingers on the screen because you going to enter a challenging battlefield loaded with action and adventure!!


Game features:
- Elegant Warfare game with spectacular 3D graphics and intriguing music
- An army of Intelligent and Deadly enemy soldiers
- Fire arms including guns, assault rifles, grenades and rocket launchers
- Stunning commando and soldier characters
- Showcasing natural surroundings consisting of forests, mountains and animals.
- Test your commando skills in warfare environment including tanks and helicopters
- Addictive game that makes you stick to it until the end!


Why should you choose it?
- Awesome 3rd person shooter free of cost!
- Put your shooting skills to the test
- Kill time while playing an excellent 3d-based warfare game.

Gameplay
- Simple joystick controls for movement
- Auto-shooting, you just have to aim
- Tap buttons for weapon selections and running fast.

Tips
- Keep an eye out for magazine, if 1 or 2 bullets are left force a reload by firing them
- Hide behind trees and other objects to avoid fire
- Use grenades when enemies are crowded at a spot.

We hope you like it, your feedback is appreciated.

This free game is an intellectual property of GameCraftPro – copyright 2017.
Epic Commando 3D Shooting 1.1 Update
- Game Controls Improved
- Enemy AI Improved.
- Difficulty level Changed for different Level.
More