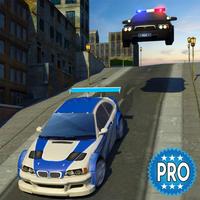 Escape Police Car Chase Game: PRO
$2.99
Screenshots for iPhone
More Screenshots for iPad
Escape Police Car Chase Game: PRO Description
The most intense police escape racing game is here now with a brand new look in PRO version. NO ADS! 100% COMPLETE GAME!

It's a race for life. Become a hell rider to race in exotic cars & escape from worlds most bustling metropolis chase over spectacular city. Commit bank robbery and crimes to abscond from modern police cars on tricky roads. Enjoy uninterrupted (ad free) gameplay in modern city.

Hop on to take a ride of your lifetime rushing through the shallow grounds of hell. You are behind the wheel of a turbocharged crazy car. Drive recklessly to escape and take turns at full speed is all what you need in us police arrest game. Turn on your turbo engine for xtreme speed racing over miami city roads in police vs robbers game. Endure heart wrenching hurdles on gritty roads to abscond from police cars. Be an international criminal speeding away from crime patrol squad in the latest car escape game.

This all-action packed game requires xtreme racing skills, shrewd mind and enough guts to get through chaotic hindrances. After escaping from Alcatraz jail, execute big bank robbery & auto theft and don't get caught by police chase cars in fast city. Show guts for grand gangster theft and tempting driving missions in suburban town. Drive sports car from perilous maze of modern city streets after robbing gold and diamonds from big bank.

Drive crazy car through big city traffic & be faster driver as if get caught by metropolis chase car, you will be dead.

Key Features:
- 10 challenging police car escape levels
- Real driver skills with grand escape plan & police car chase
- Sports cars and crazy auto vehicles for xtreme speed racing
- Spectacular controls for ruthless driving in miami city
- Realistic open world environment for mafia driving missions
- High quality HD graphics and immersive gameplay

Enjoy the unique gameplay and give us your feedback to help us improve this game in future releases.