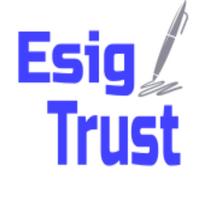 EsigTrust
Not Available
Removed
from the App Store
EsigTrust Description
This app enables E-sign+Trust (https://esigtrust.com), a web based E-signature application that takes E-signatures into the future. Traditional e-signature applications focus on placing a graphic signing image (e-signature) into a digital document. E-sign+Trust, uses the FactChain Trust Engine™ to add true "trust" to e-signature document transactions. E-sign+Trust provides the following unique features:

E-sign+Trust uses this mobile app for digital signatures to provide proof that documents are not fraudulent and have not been altered in any way.

Two separate forms of authentication ensures that your account cannot be used by others. A potential compromise of just one factor won't unlock your account. So, even if your password is lost or stolen, the chances of others having your second-factor (this app on your phone) is highly unlikely.

E-sign+Trust uses the Ethereum blockchain to provide public tamper proof evidence. This allows 3rd parties to independently validate the authenticity of a document.

E-sign+Trust's premium E-notary feature provides strong identity verification. It's like having all your documents notarized automatically.

E-sign+Trust's premium trust protection provides $1 Million of protection for every document signed by E-sign+Trust.