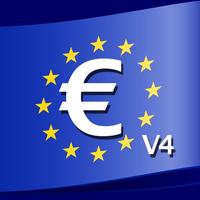 Euro Time Machine
Free Get
Euro Time Machine Description
German: Euro Time Machine ist ein App welches Dir auf einfachste Weise den aktuellen Euro Preis in deiner alten Landeswährung anzeigt. Tippe einfach den Preis ein und staune wie teuer alles geworden ist!

English: Euro Time Machine is an app that shows you the current euro value in your old national currency. You will be amazed how expensive everything has become.

FR: Euro Time Machine est un soft qui vous indique le taux en vigueur dans votre vieux monnaie nationale. Vous n'en reviendrez pas à quel point tout est devenu cher.

FI: Euro Time Machine on app. että näet nykyisen Euron arvo omassa vanha kansallisessa valuutassa. Tulet hämmästymään, kuinka kallista kaikki on muuttunut.

GR: Εuro Time Machine είναι μια εφαρμογή που σας δείχνει την τρέχουσα αξία του ευρώ σε εθνικό Γέρος νόμισμα της χώρας σας. Θα εκπλαγείτε πόσο ακριβό ό, τι έχει γίνει.

IT: Euro Time Machine è un'applicazione che mostra il valore corrente di euro nella vostra vecchio valuta nazionale. Sarete sorpresi di come tutto ciò che è diventato caro.
Euro Time Machine 4.0 Update
Aktualisierte Version mit überarbeiteter Grafik.
Version mise à jour avec graphiques révisés.
Updated version with revised graphics.
Ενημερωμένη έκδοση με αναθεωρημένα γραφικά.
带有修订图形的更新版本。
Aktualizovaná verzia s revidovanou grafikou.
Posodobljena različica z revidirano grafiko.
Versione aggiornata con grafica riveduta.
Versión actualizada con gráficos revisados.
More