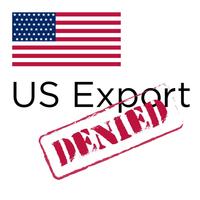 Export Screening List
Not Available
Removed
from the App Store
Screenshots for iPhone
More Screenshots for iPad
Export Screening List Description
The Consolidated Screening List (CSL) is a list of parties for which the United States Government maintains restrictions on certain exports, reexports or transfers of items. This mobile app allows you to search for denied persons or entities on the CSL, consisting of the consolidation of multiple export screening lists of the Departments of Commerce, State and the Treasury.

This app may be used as an aid to industry in conducting electronic screens of potential parties to regulated transactions. In the event that a company, entity or person on the list appears to match a party potentially involved in your export transaction, additional due diligence should be conducted before proceeding. There may be a strict export prohibition, requirement for seeking a license application, evaluation of the end-use or user to ensure it does not result in an activity prohibited by any U.S. export regulations, or other restriction.

DISCLAIMER:
The United States Departments of Commerce, State and the Treasury maintain eleven export screening lists which have been coalesced into the Consolidated Screening List (CSL) by www.export.gov and the International Trade Administration (ITA). This mobile application uses the CSL API to query the CSL. The information herein is provided for informational purposes only. Altova has no control over the information provided by CSL and cannot guarantee the sequence, accuracy, or completeness of any information or data from CSL, nor shall Altova be liable in any way to the reader or to any other person, firm or corporation whatsoever for any delays, inaccuracies, errors in, or omission of any such information or data or the transmission thereof, or for any actions taken in reliance thereon or for any damages arising therefrom or occasioned thereby or by reason of nonperformance or interruption, or termination, of the information or data for any cause whatsoever. Altova makes no representations or warranties with respect to the information contained in or made available by this mobile application and takes no responsibility for supplementing, updating or correcting any such information.
Export Screening List 1.0 Update
This update is signed with Apple's latest signing certificate. No new features are included.
More