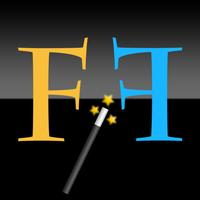 Fancy Foto Lite
Free Get
Screenshots for iPhone
More Screenshots for iPad
Fancy Foto Lite Description
This app was my wife's suggestion - to express herself without being confined to someone else's words. She wanted a way to add clipart and have the flexibility to do all sorts of fun things with that clipart.

* AUTO-create haiku-style poetry when you can't find your own words
* Color-adjust your background or use your photo or camera
* Pan, zoom, rotate your selected background photo
* Overlay preloaded clipart or choose your own custom clipart
* NO PREDEFINED WORDS! - Type your words and Fancy Foto automatically creates word tiles - you're no longer confined to someone else's words!
* Change the word tile background color and font color combo
* Tap clipart to rotate, scale, move, flip, and adjust transparency
* Tap word tiles to rotate, scale, move, flip, and adjust transparency
* Email your creation to your friends, family, or lover or just save it to your photo album.

NOTE: Layers are ordered as:

1: Background color
2: Background image
3: Clipart (in the order selected)
4: Word tiles

A background image will overlay the background color. Clipart will overlay both the background image and background color. Word tiles will overlay everything.

Clipart and word tiles can have the transparency adjusted so whatever is "below" will show through.

Thanks to OpenClipart.org. If you've created your own clipart consider uploading some clipart to them - I will!
Fancy Foto Lite 2.0 Update
* Performance enhancements
* Removed the watermark in favor of an ad once in awhile
* Corrected problem when trying to share your image
* Renamed to "Fancy Foto Lite"
More