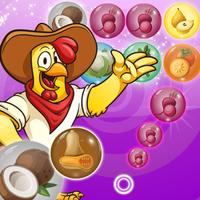 Farm and Bubble Adventure Classic bubble shoot fun
Not Available
Removed
from the App Store
Screenshots for iPhone
More Screenshots for iPad
Farm and Bubble Adventure Classic bubble shoot fun Description
Farm Bubble adventure is a bubble shooting game, but what makes it different is the way it is played.This is a farm themed new exciting bubble shooter game.
Bubble shooter games are the most loved game genre around the world and this game is a new addition to bubble shooter 2016 world.The game is new but offers classic bubble shooting fun.
In Farm Bubble adventure help a cool chicken on his farm adventure to rescue cute little adorable birds, pop all the bubble traps to rescue the birds and to become hero of the farm birds.
There's trouble in farm!It's up to you to adventure through the farm and rescue trapped birds.Shoot to make the trap bubbles pop and Rescue all the birds and become a farm hero.
Shoot bubbles to clear all the troubles on your path to win levels
shoot bubble at correct angles and right places to pop the bubbles and rescue the birds before you run out of bubbles to shoot.
Complete all challenges and make high scores to get 3 stars on every level.
Plan all your bubble strikes with right combinations ,precise shooting angle ,sharp aim and limited bubbles to make same shaped and colored bubbles pop.
Use your bubbles carefully because you only have a handful of them.
If you don't need the current bubble, you can shuffle,change or swap the bubble with the next bubble.
Download Farm Bubble adventure,complete all levels and Have fun!
Help the birds escape and be the hero of this amazing bubble shooter game.
Embark on adventurous journeys in mysterious farm lands. You dont need any witch craft to win this game, you just need a brain with thinking power, to make clever combinations and pop the bubbles to win the game.
Levels are interesting ,fun and pleasant but sometimes it becomes very tricky to make the bubble pop, come and play all the levels to win 3 stars.
If you want to try out a unique, interesting bubble shooting game, then you need to try this game right away! we hope you will get a satisfying bubble popping experience!

Farm Bubble adventure contains both Puzzle Mode & Arcade Mode.

In Puzzle mode you will play the game with normal level based puzzles.
In Puzzle mode You have to pop all the bubbles that are trapping the innocent birds to complete the levels .
You will also get different power up bubbles like rainbow bubble and bubble bombs.
The rainbow bubble pops any color bubble it strikes with.
The bubble bombs pops or blast bubbles by blowing up in small area.They are ideal to blast the black iron bubbles.
You will face several bubble obstacles like frozen bubble, black iron bubble and double bubbles
Frozen bubbles are bubbles covered with ice.To pop and blast frozen bubble you will need to combine more than 3 same colored bubbles to get rid of one frozen bubble.First you need to break the covering ice and then pop the bubble just like a normal bubble.
To pop and destroy black iron bubbles you will need bubble bombs.You can not pop break or blast the black iron bubbles using the normal bubbles.Normal bubbles have no effect on them.
Double bubbles are the bubbles that contain a bubble inside other bubble , you have to pop and blast the double bubble from inside out. First you have to blast and pop the outer bubble and then you will be able to blast the inside bubble.

In endless mode the bubbles will go down gradually, you only need to shoot correctly and quickly to avoid losing or game over condition.Knock the bubbles down as fast as you can to survive and see how far can you go in this bubble shooter.


Features:
Two modes Puzzle mode and Endless mode.
100+ LEVELS to bubble popping fun
nice visual effects and graphics
beautiful and vividly colorful bubbles.
Free & easy to play, challenging to get 3 stars!
Experience all emotions like Joy, Fear, Anger, Disgust and Sadness During Game-play.