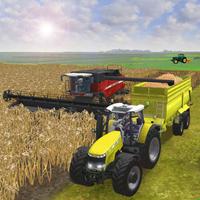 Farming Tractor Simulator 2018
Free Get
Screenshots for iPhone
More Screenshots for iPad
Farming Tractor Simulator 2018 Description
Lets introduce you to the latest and challenging Farming Simulator. Farming Simulator 2018: Animal Transporter Tractor is the new and the advanced version of pro tractor farming in 2018. This new Tractor Farming Simulator allows you to become the real farmer and boost your agricultural career with the help of advanced machinery and equipment. Take a control of your lush green farm and fulfill your harvesting dreams. Raise your farm animals and run a dairy farm.


Farming Simulator 2018: Animal Transporter Tractor is a new concept where you will feel like a real virtual farmer. Use modern machinery to experience the life of a farmer. Grow your crops and sell them to the market for money. But before this you will have to go through the complete process of growing the crops. Plough your field, spray pesticides, water the fields and do all the rest of the work required for the farming.

This is a farm animal transporter sim that gives you the joy of playing a realistic animal transport simulator with a novelty of cattle variety among farm animal games. Be an awesome animal transporter driver by roaming around with your 3D trailer. Practice on tractor as a truck driver duty of carrying livestock in your cargo truck and transporting them safely and without incurring any kind of damage. This animal transport game is a unique blend of quality transport games mechanics and scenic rural environment to give the perfect 3D animal transportation simulator experience.


Farming Simulator 2018: Animal Transporter Tractor lets you know how people harvest in ancient time? They face many difficulties during such process when there was no development in technology. Man had to work several days in fields. But now days this concept has been fully changed. We can do this work in some hours without any hurdle with the help of modern machinery. Get ready to work in field. Pick up your device install this Farming Simulator 2018: Animal Transporter Tractor to have a farming adventure.

The wheat crop is ready to harvest with the help of harvester machine. Then choose the fertile land plough it and make path for seed with the help of drill machine attach with your tractor, transfer the animals from village to city for sale. After selling the animals come back to give water to your crops, spray your fields to kill insects which can damage your crop, wait for sometime when wheat fully grow again. Harvest them and transport them to warehouse on your transport tractor. Take crops to the city to sell them for handsome amount of money.
Remember! Rush before the fuel of tractor ran out or time is over before the completion of your level then your level will fail and you have to try again.


Farming Simulator 2018: Animal Transporter Tractor Features:

- Realistic Farming game with slick user interface to enjoy your Farming skills
- Manage your dry farm and harvest crops with modern harvester
- 3D realistic farming simulator with heavy tractors, harvesters and cargo transporters
- Challenging levels and missions to improve real life farming
- Design your farmland in any way you want with different field patterns
- Collect money by selling your ready stock and buy new machines to improve you farm
- Become the real life Master Farmer with most advanced farming technologies and machinery
- 3D farm environments with amazing thresher graphics
- Challenge your friends by sharing online your statistics and achievements


We value your feedbacks. Presenter of Snow Plow Rescue Excavator, Heavy Truck Driver Simulator, 8 Wheeler Russian Truck, Farm Tractor Silage Transport
& Police Robot Transformation War presents Farming Simulator 2018: Animal Transporter Tractor. Hope you will like and appreciate it.





Become a Real Farmer by Playing Farming Simulator Animal Transporter Tractor.
Farming Tractor Simulator 2018 1.0 Update