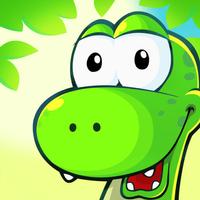 Feed the Snake
Free Get
Screenshots for iPhone
More Screenshots for iPad
Feed the Snake Description
The famous Snake Game has officially been taken to the next level with Feed the Snake.
With Super beautiful graphics, new creative gameplay, the smooth movement of the snake and Multiplayer mode, you will certainly have the best experience ever.

The basic rules are still the same and very simple: swipe on the screen to control the snake's direction. Control the snake and hunt down obnoxious rats around the field, each time you get one, you grow 1 block longer. You must not crash into the bounding or yourself, so the game will get harder and harder as the snake grow longer.

New features:
- Golden rats: These special rats sometimes appear on the field giving 5 times score and coins than normal one, but hunt them fast or they will run away.
- Combo: The faster you eat, the higher your Combo energy rise, the higher Combo means higher scores and coins.

Beyond normal gameplay of the Snake Game, explore our 2 amazing game mode:
- CLASSIC mode: You play alone in this mode just like the old game, but there will be power-up appears on the field and brings great power boost. You can snap for prey far away with the "Evil Tongue", transform to "Ghost Form" and magically crawl through yourself or "Degenerate" yourself. This mode help you relax or practice the super speed to jump in to Versus mode.
- VERSUS mode: Get ready to join the intense arena where all the snakes from around the world compete to see who's the best. Fight with other snakes in a deadly match (4 players maximum). In this mode, attacking spell will show up on the field, giving huge advantage for those who obtain it. It must be really hard to fight an opponent with "Invisibility" that you can not see, or being frozen with some "Blizzard", or trying to get around traps create by "Summon Spikes". You can also challenge Sandroid - a highly intelligent machine snake in a 1-1 battle to get ready for the arena.

What are you waiting for? Join the extraordinary world of Feed the Snake, save up coins to upgrade your power and challenge the strongest opponents in the world!

Download Feed the Snake today, it's totally FREE!
Feed the Snake 2.1.1 Update