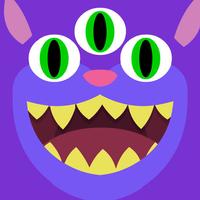 Feed Your Monster!
Free Get
Screenshots for iPhone
More Screenshots for iPad
Feed Your Monster! Description
** Featured in Best New Games! **

Your adorable pet monster is HUNGRY… you'd better feed it something, and quick! Anything will do - bananas, bathtubs, boats - they all go in! How big will your monster grow? Big enough to eat a building? An island? A PLANET?

Can you outgrow the universe itself?! FEED YOUR MONSTER to find out!

• SIMPLE GAMEPLAY
Just tap to throw food into your monster's mouth and watch it grow! And it doesn't just like food… tap anything around you to feed it - spiders, trash trucks, airplanes - they all taste good!

• FREE FOOD MULTIPLIERS, BONUSES, & RANDOM EVENTS
Get multipliers just for tapping – up to 40X per tap! Plus, keep your eyes peeled for tons of free bonuses and random events!

• 240 DIFFERENT FOODS TO FEED
And each feeds faster than the last!

• GET HELPERS AND CONTAINERS TO KEEP YOUR MONSTER FED
Hire Helpers like your Dad and the President to feed your monster automatically! Get Food Containers to store up food while you sleep!

• UNLOCK NEW MONSTERS!
We're not telling how. Can you figure it out?

• INFINITE REPLAYABILITY!
There is *literally* no limit to how large your monster can get!
Feed Your Monster! 1.5 Update
We heard your feedback and we've made some great improvements to the game:
• Removed the Authorities. They were no fun anyway!
• Added free bonuses to try out Magnetic Personality and Super Tap-O-Matic, some of our favorite boosts!
• Added Mega Tap-O-Matic. It's MEGA-FUN!
• Boosted frequency of random bonuses, and made the benefits of viewing an ad SUPER great.
• Repositioned popups to help avoid accidentally tapping the buttons if you're on a tapping rampage.
• Edited the menu so you can still see your multiplier while it's open (you never lose your multiplier while you're browsing).
• Made it easier to tap bubbles and objects. Get those paper airplanes!
• Notifications won't buzz your phone if it's on silent. Shhhhh!
Thanks for playing and have fun!
More