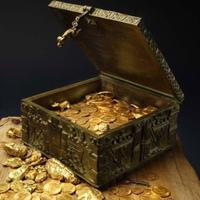 Fenn Treasure - Pocket Guide
$2.99
Fenn Treasure - Pocket Guide Description
This app is designed to be a handy reference for those searching for the Forrest Fenn Treasure. It works on the iPhone as well as the iPad. The initial release is the first of many to come. For this reason, we've discounted the price until we get more feedback and can add more features. Look for more hints and a more useful map in future installments.

A little about the Chase, for the uninitiated:
In 2010, Forrest Fenn went into the wilderness of the Rocky Mountains bearing a treasure chest. The chest, a 12th-century Romanesque lockbox, would be filled with a number of gold coins, gold nuggets the size of chicken eggs, pre-Columbian figures, emeralds, sapphires, rubies, and diamonds. It is estimated to be worth millions. To locate it, you have only to solve a Poem.

According to Fenn, over 300,000 people have attempted to find his hidden treasure. So far, no one has claimed it. This app is designed to be your pocket reference for the poem and other hints that have been revealed over the last nine years. All features but the map will work without cell reception.

Disclaimer:
The creators of this app have no affiliation with Forrest Fenn, nor do we encourage you to search for hidden treasure without taking ample precaution.

If you do undertake this quest for treasure, go with a friend. Bring bear spray and a whistle. Have a tracking device with you at all times. Don't do anything an 80 year old man couldn't do in an afternoon. Be safe, and almost as importantly, have fun!
Fenn Treasure - Pocket Guide 1.0 Update