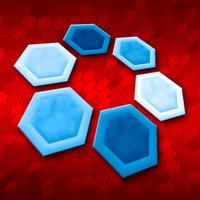 Fill More!
Free Get
Screenshots for iPhone
More Screenshots for iPad
Fill More! Description
The Soviet Union did not conquer the world, however they brought us some legendary computer games. Besides the most famous Tetris, it was the very popular and addictive Filler, now reinvented for you as Fill More!

What is the principle of the game? Just try that, it's free :)
It is simple, but it is much easier to play Fill More! than to explain. But I'll try: Two opponents start at opposite sides of the game field. By changing their color they take over adjacent cells and expand their territory. Seams easy? Try that against your friends or computer opponents.

But be careful! Fill More! can be very addictive, especially if you play against your friends. You can beat them on your device or compare your skills in Game Center leaderboards.

Three different unique computer opponents will help you to find strategies and prepare for the real tournaments against your friends.

Lite version features:
- limited game settings for single player game
- two players game on one device

If you like the game, you can have even more fun with the full version of the game!

Additional features in full version:
- single player campaign with leaderboards
- fully customizable game settings (number of colors and cell size)
- iCloud sync (your score is safely stored in iCloud (if available) and synchronised between your devices)
- support for multiple Game Center accounts
Fill More! 1.96 Update
Fill More! version 1.96 release notes:
Perfect things can't be improved, but I tried even though.
Fill More! version 1.95 release notes:
Dear comrades!
It has been quite while from the last update.
Not much happened in the world of Fill More! during last months, but I am back with the new update!
And I must say, that even though the Fill More! might be considered perfect, there was some tiny bugs, which needed improvement. Especially in the Game Settings. The selected buttons were practically invisible! So this is fixed…
And I hope, that you will enjoy it and Fill even More!
Yours,
Big Leader
Fill More! version 1.9 release notes:
Dear comrades,
there are times to be a hero and there are times to be a ... father... or mother... or whatever else.
There is one thing I wanted to say and I wanted to say it clearly. But I am not sure, what it was.
So ok. Here it is. New release of Fill More! is here! It is not full of new features, don't worry. With the new iOS 9 I just wanted to make a clear cut. Code cleaning, removed depricated stuff from older iOS versions. And also one thing - Game Center multiplayer. Don't cry, don't pretend to be sorry. I know you, comrades! I know YOU! You've been pretending to love multiplayer. You've been saying that you play it all day, but the truth is, there have been only 14 games played via Game Center las year!! Only FOURTEEN GAMES!! Compare it with more than 350 000 normal games played during that time (developers note: "Thank you for that, guys!!") If this is not counterrevolution, what is it?!
You may see tears on my face, but they are tears of joy! I am sure that without that disturbing Game Center button, you will be more happy and Fill MUCH MUCH More!
Yours
Big Leader
Fill More! version 1.8.3 release notes:
Dear comrades, we are ready to go for iOS 9!
Yours
Big Leader
Fill More! version 1.8.2 release notes:
Dear comrades,
this is just small diversion fix release. Imperialistic enemy cleverly changed system behavior in iOS 8, which could cause crashing. But our agents are not stupid and they fixed the issue quickly (just 10 months from the system release).
Enjoy and Fill More!
Your Big Leader
Fill More! version 1.8 release notes:
Dear comrades,
those devili imperialists from the Dry Valley are releasing new versions of their system so often! My engineers always do their best to keep Fill More! on the edge of the modern technology, but this time the imperialists caught them unprepared! So many new resolutions, so many new iPhones! And now our spies informed us that there should be some tiny wearable device!! Something like "hand clocks"! This is outrageous. Everybody knows that watch should stay in pocket!
So with this release, Fill More! is ready for iPhone 6 and 6+. And don't worry, we are watching our enemies closely!
Yours
Big Leader
More
More Information
In-App Purchases:

Pro version upgrade $1.99

Pro Version Discount $0.99

More