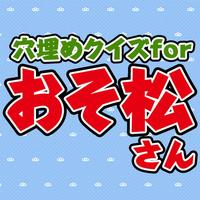 Fill-in-the-blank quiz for Osomatsusan
Free Get
Fill-in-the-blank quiz for Osomatsusan Description
Six children of legend is back! In addition, ... as an adult!
To commemorate the Fujio Akatsuka 80th anniversary, his masterpiece "osomatsu-kun" in the latest anime "Osomatsu's" about the quiz application, the name is "fill-in-the-blank quiz for Osomatsu's" appeared!

Since divided by level of difficulty, you can enjoy up to those of mania from the beginner.

In the "fill-in-the-blank quiz for Osomatsu-san", we have provided a lot of problems from such as manga and anime!
Quiz has become a fill-in-the-blank format, same problem has been adjusted so that the hard left. Correct answer of the quiz, because Nowak medals depending on the conditions, such as all the questions domination, there is also fun to collect a medal as well as quiz.


Are questions at a time problem is we have a total of 10 questions.

Apprentice answers time
5pt at 0-5 seconds
4pt in 5 to 10 seconds
3pt 10 to 15 seconds
2pt at 15 to 20 seconds
1pt at 20 to 30 seconds
You can earn (Intermediate twice, senior three times).

Beginner, Intermediate, Advanced, 50pt as each When you answer 8 questions or more in all problem bonus, 100pt, 150pt, you can 100pt acquisition.

Aim the No1 Osomatsu girls !!
Fill-in-the-blank quiz for Osomatsusan 1.0.1 Update
・We added any questions.
More