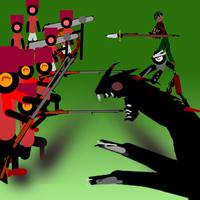 Final Stand: Waterloo
Free Get
Screenshots for iPhone
More Screenshots for iPad
Final Stand: Waterloo Description
The year is 1815. After years of chaos and suffering, the end of the Napoleonic Wars is finally near. However, six days before the infamous Battle Of Waterloo, a large British battalion was attacked and decimated by unknown beings. You are now in command of the few survivors and have to repel the attackers wave by wave, hoping for a miracle...

But fear not! Along with the unknown beings, your men found a stash of futuristic looking weapons. Put down enemies and gain money to make these weapons functional.

*Free To Play Till Day 14, Any Purchase Unlocks The Full Game

-Enjoy Breathtaking Sound Effects and Explosions!!!

-Use The Blunderbuss against bosses, it only costs $ 700!

-Defeat Endless Waves Of The Undead

-Use cannons and mortars to put down enemies in explosive style!

-Give your soldiers the command, and they will fire with pinpoint accuracy.

-Or use your own weapons from the tower to snipe down enemies with accuracy or mow them down with heavy guns

-If you lose simply start off from the last level that you cleared by tapping Continue Game

Turn Blood Effects On Or Off And Set Difficulty Settings In The Options Menu
Final Stand: Waterloo 1.1 Update
Thank you all very much for the reviews! Here are some improvements we made after reading every review; we also added some of our own:
ANY IN APP PURCHASE WILL NOW UNLOCK THE FULL GAME (play past lvl 14)
-Change Game Difficulty InThe Options Menu
-There are new In-App Purchases and any one of them will now unlock the full game. People who had previously purchased the full game will, as as token of our appreciation, receive a Mysterious Device!
-You can now set difficulty settings and tutorial settings in the Options menu!
-A New Icon!
-The glitch where the ad moves to the middle of the screen should now be fixed. We apologize for this inconvenience.
Note: The reason why we incorporated the full paid game into the free version is so that you can just keep playing and keep your current progress without having to go to the app store, pay for the full version and start over again. It's always been a dream of ours to create something like this for everybody; however, we do need to make it economically viable as well. We apologize for the inconvenience this may have caused!
Stay tuned for bigger updates with more soldiers, more weapons, a bigger army, and more enemies to fend off!
More
More Information
In-App Purchases:

Stash Of Cash $0.99

Unlock Full Game $0.99

Diamond Treasure $1.99

Handful Of Diamonds $0.99

More