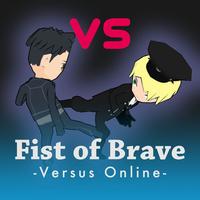 Fist of Brave Versus Online
Not Available
Removed
from the App Store
Fist of Brave Versus Online Description
You can fight online battle using characters that appear in "Fist of Brave" of Street Violence Action Games.
Even those who do not know the main story can enjoy it as a fighting game.
There are modes that you can fight with friends who know any keywords.

Note: Although some fee is charged, such as character unlocking and advertisement non-display, basically it is content that you have played for free.

【how to play】
1.
Enter the player name.

2.
In the title screen, select the character you want to use.

3.
When connecting from the match button to the server, it shifts to the standby stage.
Here you can kill pylons and practice actions.

Note: If an opponent player is found immediately, it may jump the waiting stage.

After matching, we move to the battle stage and fight one to one.
It is chosen at random from 4 battle stages.

4.
Using the mobile screen as a controller intuitively manipulate characters and fight.
Winning or losing is decided when either life gauge disappears.
Also, when three minutes have elapsed from the beginning of the battle, it will automatically draw and the battle will end.

5.
When the victory or defeat is decided, the scene automatically shifts to the match record screen.
If you want to fight again, you return to the title screen, if you change the character, it will be repeated until you match again.

6.
GameCenter manages the number of victories and ranking of winning streaks.
When you press the GameCenter icon, it is automatically sent to the server.
Fist of Brave Versus Online 1.0 Update
More Information
In-App Purchases:

Character unlock 1 $0.99

Hide Ads $1.99

Character unlock 2 $2.99

More